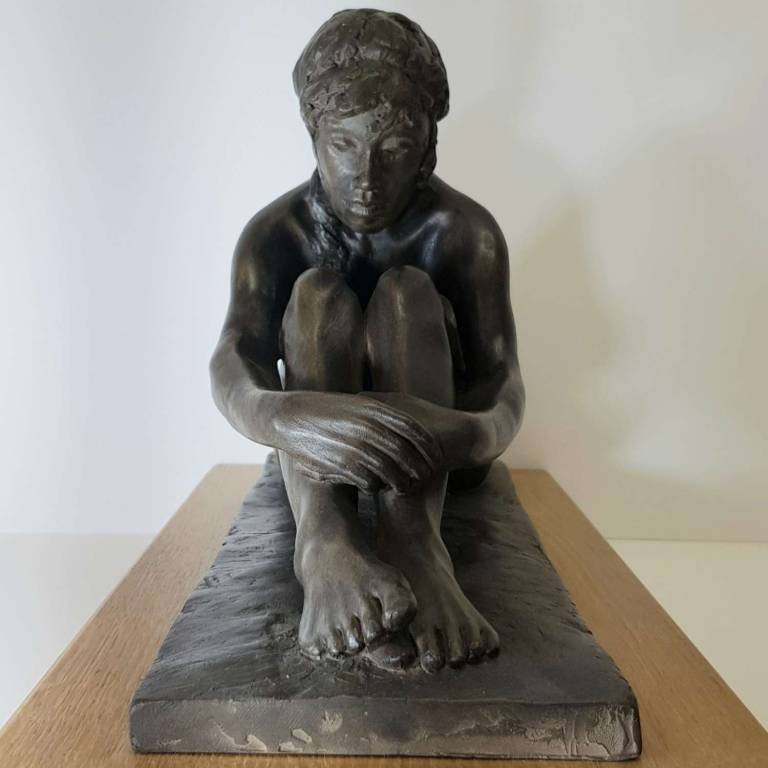 I was born in Rotherham, South Yorkshire, and from a very early age my mother noticed that I had an artistic talent which luckily she very much encouraged.  She took me to extra art classes and at school I loved creating pottery, especially modelling animals. I could always be found in the pottery department even in my spare time.  After a Foundation Course I went to Bristol Polytechnic where I studied for my B.A.(Hons) in Ceramics. Whilst studying I found I had an aptitude for sculpting figures and modelling so my degree show consisted of very figurative work.

I had a tutor who worked part time for Royal Doulton and he took me to the Sir Henry Doulton School of Sculpture in Stoke on Trent, which was very traditional with life modelling and drawing, anatomy and mould making. They only took on seven students every two years but I decided it was what I would really like to do.  Although my application was accepted, I had a year to wait so I thought I would do the postgraduate course at Bristol in Fine Art to learn other skills.  By chance I saw a position advertised at Aardman Animations as a freelance model maker.  I applied for the job and they asked me to start the next day!  So I ended up spending a year making plasticine models and working on several TV commercials – Lurpak butter and Cadbury's Crème Eggs – being just two of them.
I moved to Brixham in 1997.  I had friends living here and thought it would be a good place to set up a studio, which I did initially on Milton Street, then in St Mary's Yard in Horsepool Street.  I now work from a studio at home.
My work consists of producing limited edition bronze sculptures and taking on private commissions. As I am keen to pass on my accumulated knowledge, I also give master classes in life sculpting. I model in clay or wax mediums then usually produce the moulds myself for the smaller pieces in silicone rubber.
I have travelled quite widely and I am much inspired by African art. I also have a passion for Greek mythology, which can be seen in my work. One of my most well known sculptures is a commission produced in 2006 for a life size mermaid christened 'Miranda', which was cast in bronze, and is sited on private land at the mouth of the River Dart. It is really lovely when people tell me they have seen it; it seems to have become quite a landmark and a tourist attraction!
In 2016 I completed a one and a half times life size memorial sculpture in bronze which is now positioned on the harbourside in Brixham as a tribute to and celebration of the fisherman of the town. I based my wax maquette on the etchings created by Arthur Briscoe who drew fishermen at sea in the early 1900s. I feel really honored to have been asked to produce it, to give something back to the town I have grown to love so much.