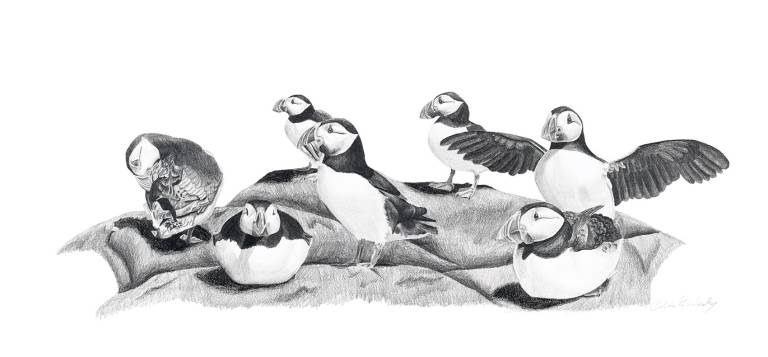 I am a self-taught wildlife artist and have been drawing for most of my life, over the years developing and honing my highly detailed approach with graphite media.      
I grew up near the Welsh border, my love and fascination with the natural world grew through many expeditions into the wilderness during my teenage years. I discovered I had some ability to recreate images of the wildlife I saw in the dramatic countryside around me. I never had any formal tuition and often wonder if this is a blessing in disguise as I am free to experiment and innovate rather than be stifled through formality.

Family and friends began requesting pictures of pets and animals which allowed me to develop my own creative style. However, it was some years before I was persuaded that my art might be good enough for public display. My first exhibition was a success and this has spurred me on to take on commissions and display my work further.  

I have been asked many times why I limit myself to working with graphite pencils but I don't find it limiting at all. With every picture I draw I find a new technique or a previously undiscovered method that I can utilise to bring to the viewer's attention the effects of light and shade, dramatic contrast or subtle differences in texture and form.

I now live in rural Scotland in a converted stable nestled in the wild landscape that inspires so much of my work. In recent years I have exhibited my work in galleries throughout England, Wales and Scotland.

Artist's Statement:

I love nature; weather, landscape, light; everything that the countryside and wild places can offer. But it is the creatures that live in the wilderness that inspire me to draw. I go out in all weathers, as often as I can, in search of inspiration; yet, even when I am fortunate enough to see something as magnificent as a stag, an eagle or even a Highland bull, I'm aware that I will only ever catch a teasing, fleeting glimpse of such awe-inspiring animals. 

In my drawings I try to capture all those tiny, unique features that are impossible to see when out on some windswept hillside or deep in a forest; the way the feathers fold and lie on the wing of a bird, the muscle and sinew of a battling stag or the gleam of light in an eye that sees what man could never see.

My art is more than just representations of things I find beautiful or powerful, there is a deeper meaning to every image. However, I am aware that a piece of art means different things to different people so the deeper message that the artist tries to convey might not be what anyone else sees.  I like to let the viewer develop their own unique response to each drawing – like nature itself there is no set viewpoint.

My greatest pleasure is to see the picture grow and develop on the easel; I create it one tiny detail at a time and I love the surprise when I step back and see the drawing in its entirety. Something that I have created from just putting graphite onto paper.